Facts about Lionel Messi doesn't stay hidden for long given, he is one of the best players to have ever graced the game. He has almost won everything that is there to win for a footballer, leaving out a FIFA World Cup of course and also Ballooning his penalty kick in the Coppa America finals.LOL.
There are many things the world doesn't know about the 29-year old forward.
1, It was a piece of napkin that started Lionel Messi's career at Barcelona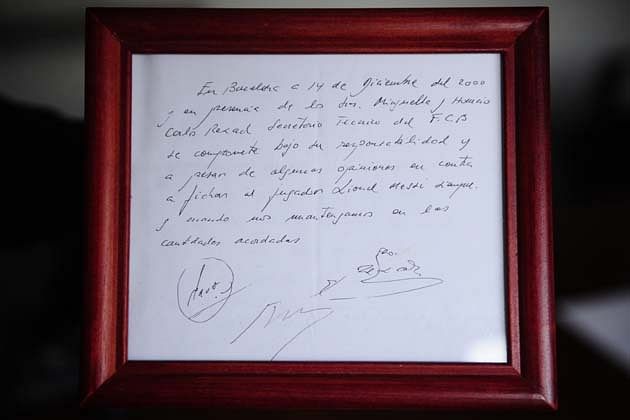 It was December 14, 2000, when Barcelona's sporting director Carles Rexach held a meeting with 13-year-old Lionel Messi's father Jorge so as to determine the future of the young prodigy. Interestingly, the contract was signed on a napkin which was the closest piece of paper. Who knew this napkin would turn out to be one of the most important sporting documents in all of history?
2, Barcelona paid for Lionel Messi's hospital bills
It is well-known that Lionel Messi was diagnosed with Growth Hormone Deficiency (GHD) at age 11, a condition that forces him to take a whole bunch of HGH. The treatment that cost $900 a month 16 years ago, was something that Messi's family were not financially up for. It was Barcelona who intervened, and knowing Messi's potential, it wasn't long until he was called for a trial at the club. Barcelona then offered to pay Messi's medical bills on the condition that he moved to Spain.
3,Even after all the fame and money, Messi maintains a close connection with Rosario
Lionel Messi has always been in touch with his old buddies from Rosario, and is said to be in daily contact with them via text messages. Messi once made a three hour trip by car to Rosario just to have dinner with his family after training, and returned to Buenos Aires the next day in time for practice. He still owns his old house in Argentina, even though he hasn't been staying there for almost half of his life now.
Not surprisingly, he is also the international ambassador of Rosario, his hometown..
4, Messi is a goodwill ambassador for UNICEF
It was announced on 11 March 2010 that Messi will be one of the goodwill ambassadors for UNICEF, a tie that is supported by Barcelona who have had a strong association with UNICEF. Messi's role is to aim at supporting children's rights. Messi has donated €600,000 for the renovation of a children's hospital in Rosario, his hometown.
CONTINUE FROM THE NEXT PAGE ….