181 killed and more than 2,800 arrested after uprising against President Erdogan
Turkish forces sought to crack down on the last remnants of an attempted military coup on Saturday afternoon,as it crumbled after crowds answered President Tayyip Erdogan's call to take to the streets to support him.
Mr Erdogan, who had been holidaying on the coast when the coup was launched, flew into Istanbul before dawn on Saturday and was shown on TV appearing among a crowd of supporters outside Ataturk Airport, which the coup plotters had failed to secure.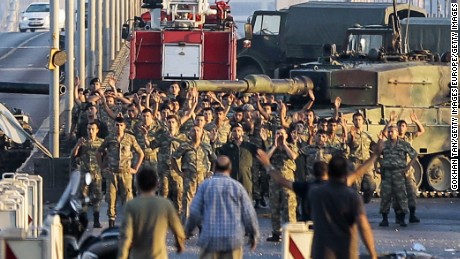 One hundred and sixty-one people were killed, including many civilians, after a faction of the armed forces tried to seize power using tanks and attack helicopters.
Some strafed the headquarters of Turkish intelligence and parliament in the capital, Ankara, and others seized a major bridge in Istanbul.
Mr Erdogan accused the coup plotters of trying to kill him and launched a purge of the armed forces, which last used force to stage a successful coup more than 30 years ago.
"They will pay a heavy price for this," said Mr Erdogan, who also saw off mass public protests against his rule three years ago. "This uprising is a gift from God to us because this will be a reason to cleanse our army."
In the first signs of a crackdown, on Saturday morning the government announced 2,700 judges were suspended from duty.
Mr Yildirim told public television that while the death penalty is not permitted under the Turkish constitution, they will consider legal changes "to make sure this does not happen again."
But the government declared the situation fully under control, saying 2,839 people had been rounded up from foot soldiers to senior officers, including those who had formed "the backbone" of the rebellion.
A successful overthrow of Mr Erdogan, who has ruled the country of about 80 million people since 2003, would have marked another seismic shift in the Middle East, five years after the Arab uprisings erupted and plunged Turkey's southern neighbour Syria into civil war.
Factions within the military carried out the attempted coup. The leader is not yet known, but the prime minister said colonels were involved.
A lawyer for the Turkish government says "there are indications of direct involvement" in the coup attempt of a cleric who is living in exile in Pennsylvania.
Robert Amsterdam said in a statement Friday evening that he and his firm "have attempted repeatedly to warn the US government of the threat posed" by Fethullah Gulen and his movement.
He says that according to Turkish intelligence sources, "there are signs that Gulen is working closely with certain members of military leadership against the elected civilian government".
The president of a group that promotes Gulen's ideas denied the charges.